2022 Giant Chess Set Buying Guide - How to Choose the Best Giant Chess Set For You!
Finding the right giant chess set for you, based on your location, intended use, budget, and style.
Have you ever seen a huge, larger than life chess set in a public park, at a backyard party, or perhaps even at a wedding? If you have, you no doubt remember the feeling of awe and wonder you got the first time that you saw one. There is something so exciting and enticing about oversized chess sets and outdoor chess sets that can't really be explained, only experienced.
What a Difference a Giant Chess Set Makes
Giant chess sets are a lot different from regularly sized sets. While traditional chess sets are seen as a cerebral battleground between two minds dead set against each other, large outdoor chess sets offer a much more communal experience. When someone is playing on a life size chess board, pretty soon everyone wants to come over and get a piece of the action! Giant chess quickly becomes a team sport, with each side of the board calling out their advice for the next move, and everyone wanting to take a turn moving the giant chess pieces.
Buying Your Giant Chess Set
Now knowing how much fun can be had with a giant chess set, you may be rushing out to buy one right now. Not so fast – there are some things you'll need to know before you can choose the best giant chess pieces for your situation. Here are some elements you'll need to be aware of:
Size
Unsurprisingly, "giant" can mean different things to different people. Do you know exactly what size of giant chess set you need? There are many to choose from. How big of a set will fit in your space? These are all things you'll need to know before choosing a set.
Material
How you plan to use your giant chess set will determine its materials just as much as your personal taste and style. There are also some sets that are for indoor use only, so you'll need to be aware of that if you're looking for an outdoor chess set. Make sure you know the benefits and drawbacks to each material before you commit!
Style
Giant chess pieces come in a variety of different styles and patterns. If you're looking for a specific style set, it may limit your options in terms of material, size or cost. You'll need to decide which category is most important to you and compromise on the others!
Price
The cost of your giant outdoor chess set will be partially determined by its size and the material, but there is a little bit of wiggle room. Work out your budget and stick to it!
Now that we've covered the basics, you're ready to look at a few of the best giant chess sets on the market. After the reviews, we'll go over what makes them so great in the Buyer's Guide section and expand on the categories mentioned above.
When it comes to giant chess sets, this is the best that money can buy. It is a completely luxurious product with a beautiful design, effortless functionality, extreme durability, and absolutely no need for any ongoing maintenance. Of course, all of these premium features also come at a premium price, but you're still getting a huge amount of value for your money.
Fiberglass is one of the best materials you can have for your giant chess set. The reasons for this are numerous. First of all, it has a beautiful, shiny finish that plastic sets just can't come close to. It is also surprisingly lightweight, which makes it easy to move even the largest pieces across the board. There are many customization options available for Fiberglass Giant Chess Sets because it is easy to achieve vibrant, true colors with this material.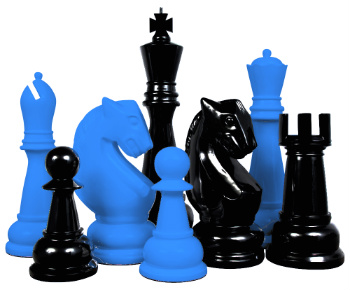 Best of all, fiberglass can stand up to anything you can throw at it and still come out looking gorgeous, with normal use. All kinds of weather, sunlight, and years of use won't cause a bit of use to show on your fiberglass giant chess set! That's definitely a plus for an outdoor chess set. Still, we wouldn't recommend dropping or throwing your fiberglass chess pieces as the finer details could become damaged with rough treatment. Best of all, they never need to be oiled, stained, sealed, or anything else. A quick rinse with a hose will remove any dirt and have them looking their best in no time.
Fiberglass chess sets come in a range of sizes including 24 inches, 36 inches, 48 inches, and 72 inches! For an additional fee, they can even be customized with your choice of colors. With fiberglass, there's no need to limit yourself to black and white!
Fiberglass Giant Chess Set Sizes:
If you want to stand out even more, there is also a Medieval themed giant fiberglass chess set that is certainly a sight to see. Previously, the design of this set was reserved for exclusively decorative sets, but the strength and durability of fiberglass now make it available for indoor and outdoor use. All fiberglass sets feature free shipping within the US, and international shipping options are available.